Regular price
Sale price
$31.37 USD
Unit price
per
Sale
Sold out
Risk-Free Purchase

Easy Returns

FREE SHIPPING
About This Item
Made from hand-woven cotton rope and sticks. The chassis is made of sturdy and durable cotton rope material, with an iron frame, which is more stable!

This pet hanging swing bed is suitable for cats to rest, comfortable and odor-free. The round shape brings a sense of security to cats who like to curl up, and also provides an elegant space for cats to sleep or rest.

It is easy to install and easy to remove. Suitable for indoor and outdoor installations, it can also be used as decoration for gardens, patios and parties.

It can be used as a cat bed to fit the cat's spine curve and make the cat feel more comfortable when sleeping. It can also be used as a cat's game toy to meet the cat's entertainment needs.

A hammock paired with a cat mat provides an elegant home for your cat and is the perfect gift for a pet or cat lover.
The product is a pure hand-woven product, not a machine mass production, so even the same product has a deviation, more unique artistic charm, the product is taken from nature, and there will be some imperfections, please confirm that defects can be accepted before purchasing.
Handling & Shipping Time

Order processing time 48 hours
General free shipping product shipping time 20-40 days
Standard express shipping time 7-15 days

FAQ

If you have any questions regarding your purchase, we will do everything we can to address your concerns. Please, contact us via email at mewcatsshop@gmail.com

How much do you charge for shipping?

We provide free shipping to over 200 countries around the world*
*with some exceptions

Will I be charged any shipping, customs, or duties fees?

No, the price you see is the price you pay - you won't be charged any extra fees.

When will you ship my order?

If you order an in-stock item, we'll ship it within 2 working days.

Do you provide tracking information?

You will receive your tracking information within 3-5 working days. If you do not receive the email, you can also contact us: mewcatsshop@gmail.com

Can I cancel my order?

You can change or cancel your order within 12 hours. Please get in touch with us at mewcatsshop@gmail.com

Can I change my shipping address?
You can change your shipping address before the item is shipped by contacting us, but once it moves to the shipping process, it cannot be changed.

Can I remove an item from my order?
Yes, you can remove an item from your order and get a refund easily before the items were shipped. To do that, please contact us via email:mewcatsshop@gmail.com
Once they were shipped, you have to wait for them to arrive and then ship it back to our return warehouse address and ask for a refund.

Where can I track my order?
You can track your order by clicking the Order Status in our menu or send us an inquiry at email support.
Just simply enter the order number you were provided when you completed the checkout (check your order confirmation email) and the e-mail address you used to place your order.
We use multiple tracking systems to monitor orders and we can give you additional information.
Please wait the full shipping time frame (check the first paragraph) for your whole order to be delivered.

NOTE: All packages you ordered may not be delivered at the same time.

My item broke; can I get a new one?
If your item was broken, which does not happen often, and you cannot repair it yourself, you have to contact us via mewcatsshop@gmail.com and provide an accurate photo showing the broken item.
We will then give you instructions on whether to ship the item back or if you'll receive a partial refund.

Lost or Stolen Packages

If the package shows delivered to your address but is missing you must report the loss to us within 2 weeks of placing your order (domestic shipments) or 4 weeks of placing your order (international shipments).

Once you have reported your lost package, we will launch an inquiry with our carrier about the lost package and attempt to have it recovered.

If the carrier declares the package to be a complete loss, we will reship your order to you at no charge if stock is available.

NOTE: We are not responsible for packages that are delivered to a wrong address due to an incorrect or incomplete shipping address provided by the customer. In this case, they will never arrive to the destination, because the carrier cannot identify the address.
Return and exchange policy

Our return policy lasts 30 days. If 30 days have gone by since your purchase, unfortunately we can't offer you a refund or exchange.

First, you need to contact us at mewcasshop@gmail.com and follow the steps to get a refund.

To be eligible for a full refund, your item must be unused and in the same condition that you received it. It must also be in the original packaging.

Very important!
About Mewcats

Welcome to Mewcats! We are a company that's all about making life easier and more fun for our feline friends. 

Our range of products includes cat backpacks, cat harnesses & leashes, and carriers, designed to make traveling with your furry friend more comfortable and convenient. Whether you're heading out on a grand adventure or just running errands, our products are perfect for exploring the world together and creating unforgettable memories.

At our company, we're all about showing cats the love they deserve. That's why our team is made up of passionate cat lovers who know exactly what cats need to feel safe, secure, and comfortable when traveling.

Our cat backpacks are designed with plenty of ventilation and soft, breathable materials to keep your cat cool and cozy on the go. Our leashes and carriers are built to last, so you can be sure your cat is safe and secure no matter where your travels take you.

But our company is about more than just selling products; we're about building a community of cat lovers who share our passion for adventure and exploration. We believe that cats are more than just pets; they're family. And we're here to help you give your feline friend the best life possible.

So why wait? Join us on our mission to make cat travel easier and more enjoyable. With our team's passion and expertise, you can be sure that your cat is in good hands. Let's explore the world together and make some unforgettable memories!

 

 
Share
View full details
This is a cute little cat bed. I like that it doesn't look like typical cat furniture so it doesn't stick out in my living room. Right now both of my kittens can fit in it, but I imagine it will get cramped as they grow so I may have to get a second one.
Hanging it up was easy and it seems sturdy. No instructions (at least with the one I got) so I just used the hardware it came with and hung it up somewhere that worked for me. It seems to be very sturdy- held up to my 5 year old niece "rocking" the kittens and all of their toys, at least. The kittens love using it for naps, bird watching, and getting the high ground in their wrestling matches. Overall a success all around.
LOVE THIS BASKET! SuPer cute, love the bohemian design and vibe it has! The quality is great! Sturdy, all necessary hardware is included. Easy installation!
Only set back, is the basket swings a LOT, which is a given seeing as it's free-hanging, so I positioned the basket in the thrust of a corner of the room and it seems to allow so much more stability and steadiness! Also would be good if the basket came with some sort of extension piece to allow for the basket heights to be adjusted. I had to rig mine with a belt for the time being and while my kitten is still a baby and developing her confidence and balance, still!
Overall I'm very pleased with my purchase
I hung this amongst a selection of standing and hanging plants. That seemed appropriate. I had to add some sturdy chain to the hammock's attached loop to have enough length to hang from the ceiling. Then I made sure to arrange things for my cats that provided a way up and into this that did not involve leaping from one hanging plant to the next. Finished, I ignored it all evening.
My three vicious, Meow Mix eating beasts, before I went to bed, had not seen the hammock at all. Furthermore, they rarely paid any attention to the plants. However, sure enough the following morning, there was Havoc, sound asleep in what was now his hammock. I was pretty sure Havoc would be the one to use it. He is small, the other two could hardly fit in something that size. But Havoc is happy with it.
I love this product! It was easy to put up , it's not MASSIVE it's perfect for a normal size cat. It's discreet and looks really cute in the home! I also love that it came with "extenders" which is extra string that matches for in case it needs to be lower!
This hanging cat basket was such a great purchase! My kitten adores it! He loves being up high and sleeps in it at night. During the day his mission is to climb to the top of the basket. The macrame is so strong and well constructed so he's able to climb all over it without it getting damaged or breaking at all. He's in love with it so I'm so so happy I bought this!! :)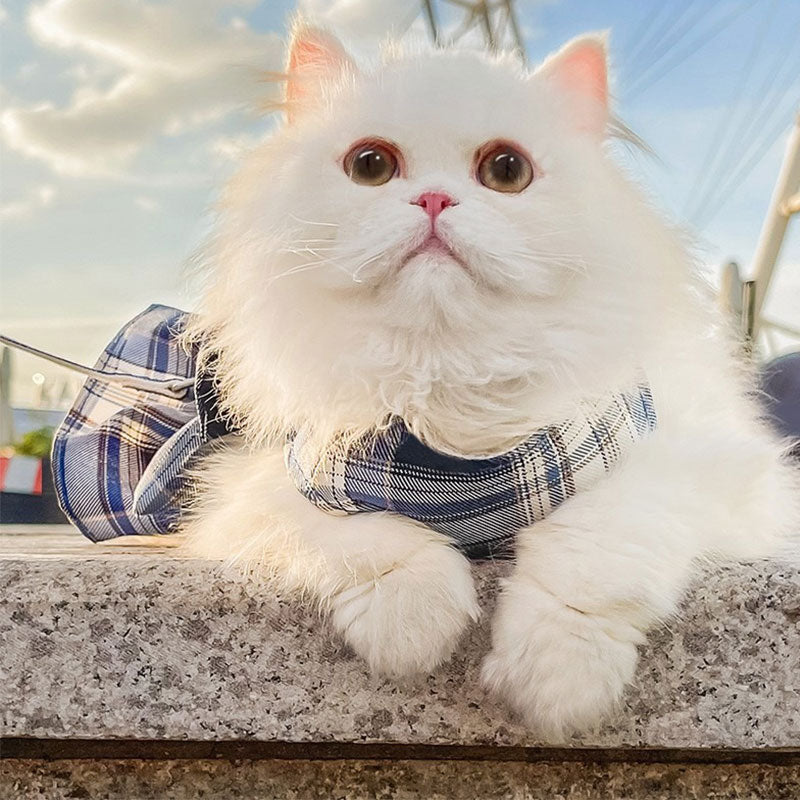 After conducting a survey of cat owners, it was found that the most common factors contributing to feline happiness include regular playtime, a comfortable and stimulating environment, high-quality food, and plenty of affection from their owners.